How to use sentry mba to crack steam accounts. Cracking Leaks
How to use sentry mba to crack steam accounts
Rating: 7,2/10

1436

reviews
10 STEAM ACCOUNTS WITH GAMES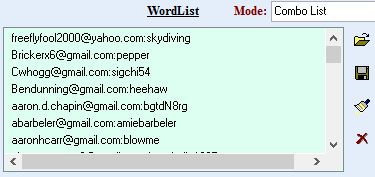 Now you may either export the whole database or you can filter out combos for the site you are going to crack. He recommended a time penalty for multiple tries, and if there is a multiple password attempt on 50,000 accounts, have a method to detect a spike in authentication attempts, and block or watch out for multiple efforts coming from a proxy server. After you watch this Video you will be able to find out how to crack account's. After Registration's Clossed Only invite system will work Registration of this forum is open for limited time to collect the Great Team for Cracking. But it is very difficult to make a config for it. Pilling confirmed that the config files are sold online, and in one case 22 November for an attack on the , although he was not certain that this tool was used in the breach.
Next
Sentry MBA makes credential stuffing attacks easy and cheap
It is in this format: username:password or email:password Proxy List: A list of proxies. And can someone send me a config, they know that is working? Hope you guys can help and sorry for my bad english. For crack account you will need two things: -Valid Proxy -A combolist a group of user ass -Configs for the program or you cannot crack All of this 3 thing i sell, you can contact me if you need Ok, for put a config do this:. You can now send a config as tool. Stop when you think you have enough proxies.
Next
Sentry Mba Configs
Im pretty sure that it isn't my proxy that is wrong, because i have cracked like 100 netflix accounts with the same proxys from a proxy searcher. When done, save settings and start the cracking process again. This requires a lot of information to get started on a site. He said that if an attacker wanted to do a brute force attack, they could use a large combo list 500,000+ credentials , but would need to set up a config file and get the proxy to configure it for multiple tries to not get blocked. Asked how businesses can block this and prevent brute force attacks on authentication forms, Pilling said that brute force attacks are part of the weather of the internet; they happen and most organizations should have a way to prevent attacks on web authentication interfaces. Now in order to remove the site.
Next
Sentry MBA works by harnessing proxies to conduct attacks
Now Master Wizard should have opened. Registrations are Open Only for Limited Period! This was the result : This resulted in all the combos for wantedgfs to be listed. He said that the config file will show the tool where the username and password fields are, but he doubted that an average user could use or write a config file. Useful in some configs where you don't need to send user agent in request. Facebook has brute force protection. Basic sites can be cracked though. Don't be late to be the part of this community Soon the registration will be closed and invite system will work for registration Only staff will get invite access to invite more peoples and only users who buy Vip or Super user rank will get invite code for registration.
Next
ELITES: How to Crack ACCOUNTS by brute forcing!!
Examine the source and look for success keys and ban keys. . Proxies are of 3 types: Transparent, Anonymous and High-Anonymous. It will start grabbing proxies. I recommend using Anonymous or High-Anonymous proxies. Few people know how to make a config for steam and they keep it private.
Next
ELITES: How to Crack ACCOUNTS by brute forcing!!
Just click on 'Stop leeching' when you feel that you have gathered enough combos. However, this is targeted at specific websites. If you do not have it, just add it. I have tried 3-4 configs but i haven't got a single hit. . .
Next
10 STEAM ACCOUNTS WITH GAMES
. . . . . .
Next
Sentry Mba Configs
. . . . . . .
Next
Cracking Leaks
. . . . .
Next
CrackingCrew
. . . . . .
Next